As the youth and leaders jump right in, we have some updates from various sources that I am compiling here!  Thank you social media! – Sarah
Facebook updates:
Great day filled with lots of fun and even more learning!  Looking forward to our home stays tomorrow night! – Lu
These people have so much love for us, and we dont even know them…its great:) – Kate
el salvador day number 3 here I come! more dusty bus rides to come 🙂 – Allison
Facebook update from Desmond:
Today in El Salvador we visited the site of where the Jesuits were massacred on November 16, 1989, where Romero was murdered on March 24, 1980, and saw the wall of names of those murdered and disappeared – it contains 32,000 of the known names. The official government list is 75,000. Human Rights organizations estimate the number to be over 100,000…. see the rest
https://www.facebook.com/collin.ebel.1?ref=ts&fref=ts#!/desmond.jaggerparsons?fref=ts
Pictures from ESNA: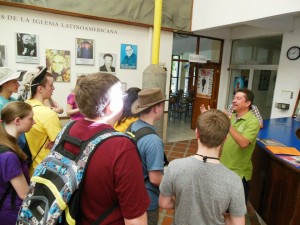 TCOW started their day by heading to UCA (University) to learn of the Jusuit priest who were murdered here.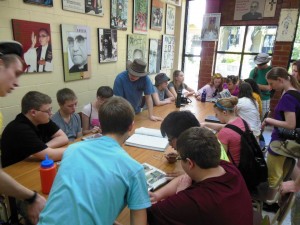 Here the group look through pictures and articles about the history of El Salvador and the stories of the murders in the 1980's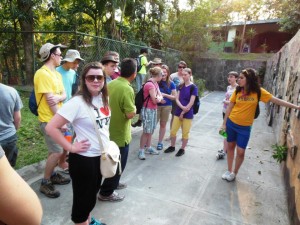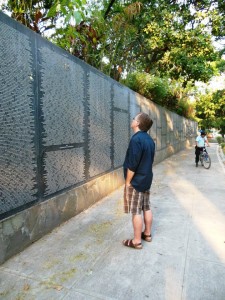 The group take some time to reflect at the memorial walls where the over 80,000 killed in the civil war are commemorated.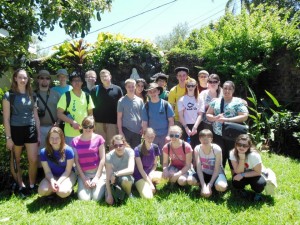 Next the group headed to Romero's house.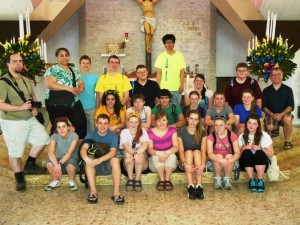 And get to tour the chapel that Romero was assassinated in.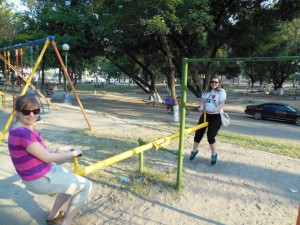 But there is always a way to lighten the mood and have some fun!